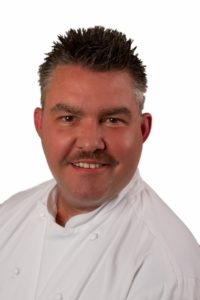 As I look back on my culinary years that made me the Chef that I am today, I realize that I don't have any memories of kitchen classroom lectures nor studies abroad. I do however, remember working for great chefs throughout the years that encouraged me to absorb as much knowledge from them as possible. These great chefs mentored me, fueled my creativity and passion, and most importantly, gave their time and attention to help me hone my skills for my craft.
My name is Douglas Gruenwald, and as many chefs, my career started in high school as a dishwasher at a thriving restaurant in Tucson, Arizona. During my five years at Keaton's, I worked every back of the house position, from dishwasher to head broiler cook. In addition to my duties there, I assisted the owners and chefs in the opening of a separate bakery and another restaurant. This bakery opening turned out to be the beginning of a long career in the pastry field.
From there I took a job with the Westin La Paloma as a graveyard baker, specializing in croissants, danish and French pastries and my passion for this field grew. I wanted more experience in creating pastries and desserts, so I moved to Las Vegas, Nevada to open the MGM Grand Casino as a pastry Sous Chef. This was an outstanding experience for me. The Chefs there were truly great as teachers, mentors and friends, and I excelled in this environment.
During the 14 years at MGM Grand, I continued to work part time at a number of restaurants in the Las Vegas area as either a sauté cook or broiler. I am no stranger to the long hours that comes with this business. Some of these "part time" jobs were still 40+ hours per week in addition to my duties at MGM Grand. Flemings Prime Steakhouse is just one of these examples.
With the opening of MGM Grand Casino in Detroit, Michigan, a new opportunity arose as Assistant Pastry Chef. I was eager to make the move to this great city and begin a new chapter in my life. The MGM Grand has taught me the value of the craft I have perfected throughout my lifetime and I'm excited to bring my experience and skills to a new venture. Although I don't see the sun drenched mountains of Las Vegas very often anymore, I look out at the unobstructed views of the Detroit River here at The Waterfront Wyandotte in Michigan and realize that I've come a long way to get to a place I truly want to be.